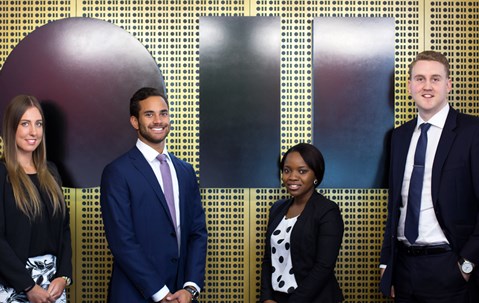 Young guns put on the fast track to property stardom as talent hunt intensifies
April 2016

As the battle to secure the next generation of Gold Coast property stars intensifies, one local group is utilising a unique partnership with Griffith University to ensure it secures the best and brightest students in the State.

Griffith University student Hamish Barton was this week selected as the latest recipient of Oliver Hume Bursary Program. Hamish will receive $2,500 towards his studies as well as a six-month internship with Oliver Hume.

All three previous winners of the Bursary – Rebecca Delay, Sherifaye Jalloh and Dan Ross – now enjoy full time employment with Oliver Hume working on some of south east Queensland's most exciting projects.

Hamish, who is the 2016 recipient, has just started his internship.

Oliver Hume Joint Managing Director Brinton Keath said the Bursary was an important way to ensure the company had access to a steady stream of the Coast's most talented young property students.

"We believe it's important to nurture and grow our next generation of developers; not just for their benefit, but ours as well," he said. "The internship is an excellent opportunity for graduates to get some practical, on the ground experience in an exciting and growing industry.

"Our Bursary recipients from 2013 and 2014, Dan Ross and Sherifaye Jalloh, were both offered full time employment after their internship - Dan is a Project Coordinator and Sherifaye is a research analyst.

"We're also excited to have our 2015 recipient Rebecca Delay now working with us full-time as an assistant research analyst."

Ms Delay, who studied a double major in Logistics and Property Development at Griffith's Gold Coast campus, said she'd always had a passion for property.

"I've always been interested in what's going on in the market," she said. "Ever since I was young, I've been working towards buying a house, which I finally achieved last year at the age of 19."

She said working with Oliver Hume would be fantastic for her career.

"Working here at Oliver Hume, I'm getting so much knowledge and experience. I'm able to apply what I've learnt from my degree and build from there."

Griffith Business School's Dr Shane Barry, who is the discipline leader for the Real Estate and Property Development major, acknowledges the outstanding level of industry engagement the university has developed with Oliver Hume.

"Not only does Oliver Hume provide a paid internship and cash grant, but they also sponsor a Property Development Study Tour each year for all students undertaking their final year property course".

"Brinton and the team at Oliver Hume have been generous and collaborative industry partners to work with in providing great property industry opportunities and experiences for our students."
Tags:
New development
Staff