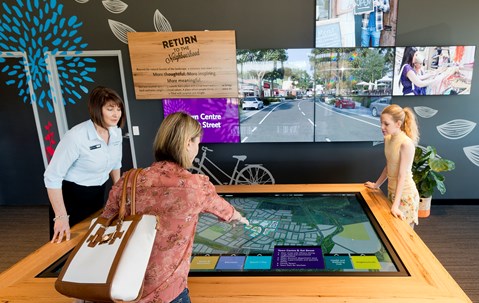 Apple, Tesla Inspire Australian-First Digital Residential Sales Centre at Providence
8 September 2016

One of southeast Queensland's fastest growing communities is now home to Australia's first all-digital sales centre, offering home and land buyers a fully interactive and paperless platform to browse, select and purchase residential packages in South Ripley.

The digital sales suite, housed in Providence's sales and community centre, was opened in April this year at a cost of $3.2 million. The 7000-lot Providence community has secured more than 680 sales since it was launched in May 2014.

The suite was a collaboration between Providence developer Amex Corporation, sales and marketing group Oliver Hume and advertising agency, Martins Brand House.

Taking design cues from the Apple 'genius bar,' Martins' brand strategist Brett Williams said the company began researching how the emerging millennial generation interact and communicate and worked to implement these techniques into the digital offering under the roof of the multi-million dollar sales and community centre.

"We looked to the world's most progressive international companies like Apple and Tesla to differentiate our customer experience; we planned the Providence sales centre to facilitate top-level customer engagement and experience and from here we were inspired and committed to creating a new experience benchmark in residential land sales," Mr Williams said.

"This isn't digital disruption, but rather Australia's first all-digital sales platform introduced through the fresh new Providence community," he said.

Providence Project Director Michael Khan said the digital sales display added entertainment and engagement value to the process of finding a new home in a vibrant new community.

"The digital path makes the process simpler for buyers who want to see the whole package; the existing community's residents, the masterplan, the neighbourhoods and all the lifestyle options clearly mapped out in front of them and just like a computer, they can save their favourites and email them to browse through at home later," he said.

Oliver Hume Queensland joint managing director Brinton Keath praised the technology as "a strong digital offering aimed solely to be attractive to the primary customer base which is the digital savvy, under 30' Millennial generation."

"Providence is aimed at setting the benchmark across all of Australia, on a number of layers for master-planned communities and this is just another tier of promise".

"The technology in particular allows young buyers to digest the offerings and select the package that matches their lifestyle and budget needs in the fast and efficient fashion which is highly desired by this type of buyer."

Visitors walk into the centre and enter a theatrette featuring a six metre wide screen showing a movie titled, "A day in the life of Providence" featuring Providence residents in an authentic storytelling experience for prospective purchasers.

A fully digital interactive Providence masterplan highlights the project features. Presenting with iPad functionality but larger at two metres in width, the 4K resolution touch-screen interacts with a video wall comprising a further seven screens arranged into a creative irregular shape. The video wall showcases services and facilities at Providence.

Visitors then move to a kiosk bench equipped with four personal touchscreens where buyers can bring in a coffee and browse options. Here, buyers can search house and land packages, drilling down to incredible detail with live updated information.

The system hands buyers buying power by allowing purchasers to select 'favourites' and email the documents to themselves for the ultimate in personalised information delivery, removing the need for printed stage release brochures.

Alternatively, if buyers request an immediate copy, they tap 'print' and their copy will ready within seconds at reception.

Children can play on iPads loaded with town-building apps as their parents peruse the residential offerings.
Tags:
New development
Sales
Research