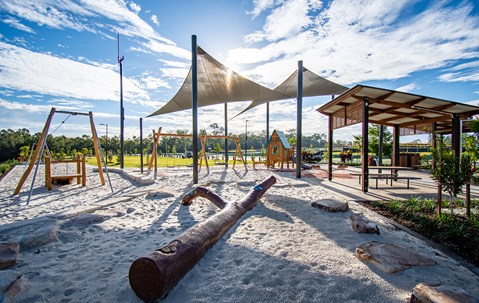 Developer Helps Bring Back Bottle Tree From Brink Of Extinction at Carver's Reach
The Carver's Reach masterplanned community is becoming a refuge for one of Queensland's most critically endangered trees with the re-planting of endangered native species in the estate's expansive parklands.
The community is marking the completion of the third stage of delivering 6HA of parklands, which features an exciting new playspace jam-packed with pieces that encourage physical, sensory, musical and imaginative play. 
Reflecting the surrounding natural environment, seven Ormeau bottle trees (Brachychiton sp. Ormeau) and 18 Bailey's Cypress (Callitris baileyi) trees are being planted as part of the parklands in an effort to intrinsically link the community and ecosystem.
The Ormeau Bottle Tree, which grows to be more than 120 years old and occurs along creeks and rivers around the Logan and Gold Coast areas, is listed as critically endangered by the Australian Government*. while Logan City Council includes the Bailey's Cypress under their threatened species list.
Carver's Reach, which is being developed by Golden Gate Property, with sales and marketing managed by property services group Oliver Hume, will play a role in helping these tree species endure and recover within their endemic habitat.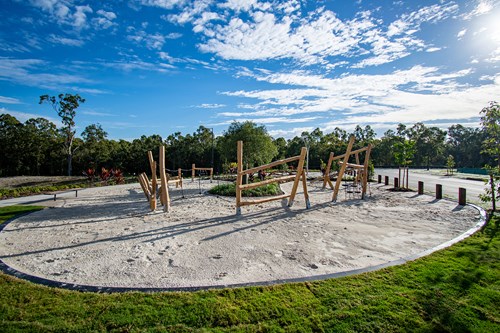 David Whiteman, Director of Development at Golden Gate Property, said the planting project was part of its contribution to responsible environmental land development programs.

"The Ormeau Bottle Tree is an iconic species endemic to this very area," Mr Whiteman said.
"The aim is to significantly increase the number of trees through natural seeding, which will importantly expand the genetic base of the species.
"It also enables visitors and residents of Carver's Reach to see this beautiful and vital part of the logan ecosystem and to enable further research into its survival.
"We take a lot of pride in making a contribution to saving important parts of Queensland's environmental heritage and securing their future."
The parklands are now dotted with signage identifying these tree species to the public.
The new playground within the Stage 3 parkland release, has been designed by Urban Play for children of all ages and has a natural theme that pays homage to the rich timber history of Carver's Reach.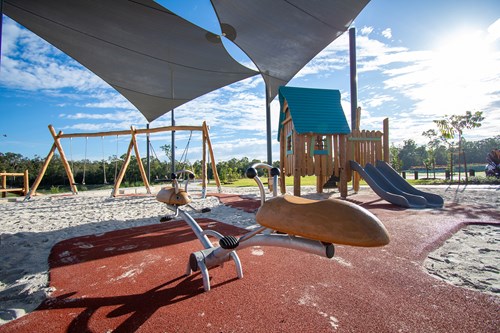 The winding curves of the wooden play pieces combined with the sand softfall complement the surrounding natural environment.
An agility trail curves its way around two native bottle trees and provides a climbing challenge for children as they make their way along the trail putting their ninja skills to the test.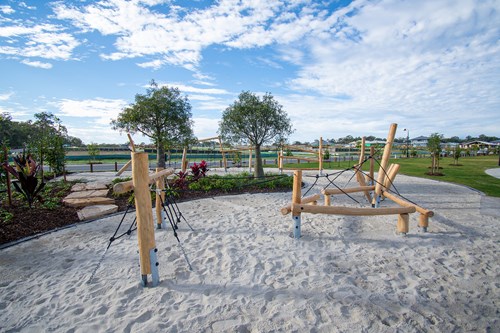 A forest bug seesaw, sand play forest hut and dinosaur fossil dig provide ground-level and sensory play experiences for little adventurers. The playspace also features a double bay swing, and flying fox for an exciting thrill.  
Urban Play designer Tobias Volbert said: "I absolutely loved designing this nature based playspace for the Carvers Reach community."
"The playspace is filled with activities for all ages and encourages kids to get outside, play and get lost in their imagination. A grassed area is perfect for a picnic or soccer match. I cannot wait to bring the kids for a family day out."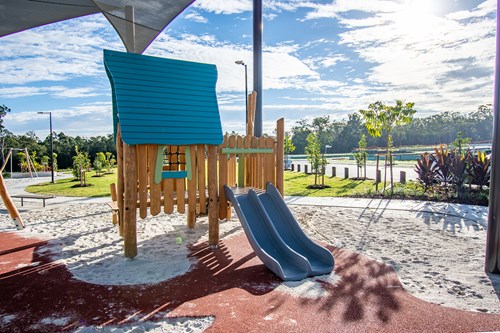 Oliver Hume Queensland Project Director Matt Barr said the endangered trees would be protected in the 6HA parklands, which forms a centrepiece of the masterplanned community.
"We are proud of the role Carver's Reach can play to preserve these precious Queensland tree species and I think the residents appreciate it as well. With high-quality parks, open spaces and playgrounds that embrace the environment, Carver's Reach is a place for families to enjoy everything Queensland has to offer."
According to the Department of Environment, the Ormeau bottle tree is an iconic rainforest tree has a range of less than 1 square kilometre with only 161 individual trees*. Habitat loss, invasive weeds, low genetic diversity, fire, insect attack are its main threats.
Carver's Reach is ideally located with easy access to the west via Mt Lindesay Highway, east via Chambers Flat Road, and north via the Logan Motorway.
The Park Ridge area, which is inclusive of Boronia Heights, has a forecasted population of 29,987 by 2036 representing an increase of over 20,000 residents since the 2016 census. Increasing the current population by 137% over a 20-year period.

The Oliver Hume team has also created an immersive and exciting virtual display village, which allows house hunters to take a tour of the project from the comfort of their own home. The virtual display village offers a 360-degree tour of the estate's hot spots, parkland and completed homes.
Virtual display village:  https://carversreach.com.au/display-homes/
Carver's Reach display homes: https://carversreach.com.au/display-homes/
*https://www.environment.gov.au/biodiversity/threatened/species/30-plants-by-2020/ormeau-bottle-tree
Name: Carver's Reach
Address: 132 Park Ridge Road, Park Ridge
Web: carversreach.com.au
Phone: 1800 514 883
Images courtesy of Kyle Marsden – Urban Play
Media contact: Doug Estwick - RGC Media & Mktng - doug@rgcmm.com.au - 0421 778 033
Tags:
Sales
New development
Community