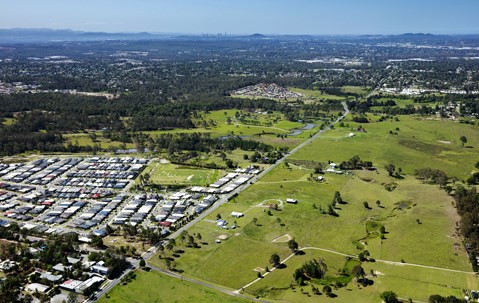 Go west for South East Queensland's best value land
Land buyers looking to take advantage of lower interest rates should look to Ipswich, with new analysis showing the growing region is home to South East Queensland's best value land.
Property services group Oliver Hume has ranked each of the region's local government areas (LGAs) based on the average price of a square metre of land sold during the three months to the end of June.
Ipswich buyers are paying an average of $507/sqm, nearly half the price of land within the boundaries of Brisbane City Council. Logan ($523/sqm) was the second most affordable area, followed by Moreton Bay ($629/sqm), Gold Coast $709/sqm) and Redlands ($741/sqm).
The relative value of Ipswich land has seen prices experience solid growth with average lot prices increasing 12% over the last five years and 3% over the last two years.
 Value Rank

Local Government Area

Average Value Rate
($/sqm)

1

Ipswich

$507

2

Logan

$523

3

Moreton Bay

$629

4

Gold Coast

$709

5

Redland

$741

6

Brisbane

$970

-

South East Queensland (Average)

$575
Source: Oliver Hume Research
Oliver Hume National Head of Research George Bougias said Ipswich's value proposition was built on having the second largest median lot size and the lowest median price.
"If pure bang for your buck is your priority, Ipswich is the place to buy right now," he said. "There has been a massive investment in infrastructure, there is an increasing number of jobs and the range of options for first and second home buyers are exceptional."
"However, good things never last forever and as more people move to Ipswich prices will begin to catch-up with the other regions."
Official land valuations for Ipswich that were released in March (used for determining council rates) saw valuations increase by up to 8.8% in 2018.
Mr Bougias said Queensland has strong economic fundamentals and the economy was continuing to improve, buoyed by gas exports, tourism and population growth.
Oliver Hume Julian Coppini said the South East Queensland market was placed to out-perform the rest of the country over the next couple of years.
He said the expected increase in demand for new land following changes to lending standards and lower interest rates had begun to materialise.
"We are coming out of quite a difficult period due the constraints placed on lending and the uncertainty of the federal election," he said.
"The whole south east market, and particularly Ipswich, has begun to pick up," he said. "In recent weeks, inquiry has increased with finance restrictions being relaxed. Sales volumes are likely to remain soft for the short term but are likely to increase over the medium to long term which is when we should also see some good price rises."
Oliver Hume has been appointed as the sales and marketing agents for a number of projects around South East Queensland, including the balance of Tribeca's $25 million OTTO project at Coomera; the $135 million, 600-lot Carver's Reach project at Park Ridge for Golden Gate Property and Defence Housing Australia's Miramor project in Ripley.
The company is also preparing to launch a major marketing campaign for Oliver Hume Property Fund's The Verge project at Logan Reserve.
Tags:
Sales
New development
Research
Investment