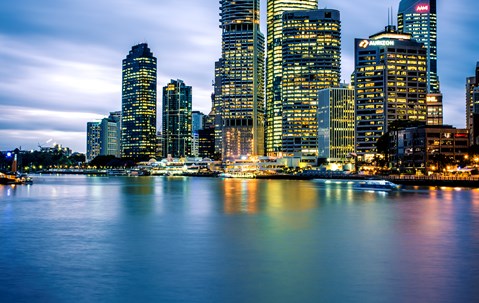 High demand for South East Queensland land market boosts average value rate
3 December 2018
The value of land across South East Queensland has risen significantly due to a growing desire by locals and interstate migrants to secure affordable lots as a result of current restraints in home financing.
The latest Oliver Hume Quarterly Market Insights (QMI) report showed that SEQ's average value rate rose 11% when compared to the same period in 2017, and now sits at $573 per square metre.
The  report revealed that per region, Brisbane was still the most expensive at $910 per square metre, followed by Redland at $757 per square metre and the Gold Coast at $732 per square metre.
Ipswich was recorded as the most affordable at $482 per square metre.
Oliver Hume Queensland General Manager Matt Barr said the overall incresase in SEQ's median land value was largely due to the high demand for the land market by locals and migrants alike who were eager to settle into favourable conditions.
"Queensland's economy is currently improving and dwelling opportunities are relatively affordable, which means buyers are showing their eagerness to benefit and driving up SEQ's land value," he said.
The growing demand for SEQ's land market, according to Oliver Hume's research, comes largely from an increasing population whose growth rate is contributed heavily to by high levels of interstate migration.
"Thanks to a growing desire across the country to live in the sunshine state, SEQ actually has the highest interstate migration rate in the nation at 24,004 individuals ahead of Victoria and New South Wales," Mr Barr said.
"Over a 12 month period, the interstate migration rate increased 49%."
Lot sizes have also contributed heavily to the rise in land value and demand, according to the report. Oliver Hume's insights revealed that lot size was one of the top reasons to purchase in SEQ.
"Around 17% of buyers said sizes was an important factor in their purchasing decision," Mr Barr said.
"There has been an increase in competition within SEQ's regions as buyers opt for smaller products that better suit the constraints being experienced in home financing."
These constraints included a reduction in maximum lending on loans with the same criteria just months apart and the up front cash requirments changing significantly in the past two years. The First Home Owners Grant was also reduced from $20,000 to $15,000 and the Royal Commission resulted in tougher restrictions and a more rigorous approval process.
"This has casued a shift in buyer focus to more affordable product types and small lot offerings," Mr Barr said.
At a median price of $229,625, lots ranging from 301 to 400 square metres were the most popular on the market, representing one in three sales (34%) over the quarter.
"We saw lots measuring less than 300 square metres double their market share to 10% compared to sales in September 2017," Mr Barr said.
Despite the increased value, land prices over the September period saw little to no change in each SEQ region.
Brisbane experienced the highest quarterly change of 3% while other regions either fell or struggled to increase more than 1%.
| | | | |
| --- | --- | --- | --- |
|   | Median Price | Quarterly Change | Annual Change |
| Brisbane | $366,625 | 3% | -6% |
| Gold Coast | $333,688 | 0% | 9% |
| Ipswich | $208,550 | 0% | 3% |
| Logan | $214,900 | 1% | 5% |
| Moreton Bay | $252,500 | -3% | -3% |
| Redland | $303,125 | 1% | -2% |
Source: Oliver Hume Research
Oliver Hume Chief Operating Officer Julian Coppini contributed the minimal quarterly change to the conditions and trends driven by the buyer demand, but indicated that SEQ median land prices could continue to rise steadily over the next year.
"When we review the quarterly changes more closely, we can see that regions like Ipswich and Logan experienced minimal growth of up to 1% partly due to the increased competitions within the regions to locate smaller and more affordable products that better suit the constraints experienced in home financing.
"However, the current median price represents a 4% increase over the year to September and is now just over $9,000 higher than the same period last year."
Media enquiries to Ben Ready on 0415 743 838.
Tags:
New development