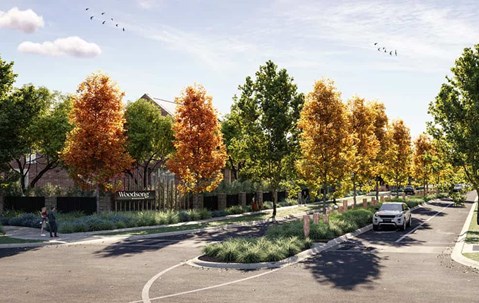 Mickleham Fires Up With 40 Sales In Seven Days At Woodsong
Melbourne's northern growth corridor continues to be one of the hottest destinations for new land buyers with HB Land securing 40 sales in just five days at the newly launched 645-lot Woodsong community.
The first public release of 18 homesites with lots ranging in size from 290sqm to 417sqm was released on Saturday (May 20), with HB Land bringing forward a second release to satisfy demand. Lots sold so far range in price from $325,000 to $446,000.
The initial releases featured level, easy-build lots with premium options that boast waterway and conservation reserve frontages.
Located at 1720 Mickleham Road, Mickleham, just two kilometres northwest of Craigieburn Central, Woodsong will be a haven for nature lovers with 9ha of open spaces, sports fields and parks; easy access to nearby hiking, biking and nature trails; and, 25ha of waterways and network parks.
Residents will also enjoy being a stone's throw from an existing catholic school and future state primary school while having sports fields and parks within 200m. In addition, the famous Marnong Estate winery is within easy walking distance.
The project is being developed by national developer HB Land, with sales and marketing by property services group Oliver Hume. Woodsong is one of four major land projects under development or planned by HB Land in Victoria, including Unity Park at Tarneit, Carrington at Officer and Elyssia at Wollert.
HB Land Chief Executive Officer Michael Vinodolac said the strong sales result for the project was indicative of the pent-up demand for quality homesites in the area.
"The response from buyers has been incredible," he said. "There has been limited supply of good quality, flat homesites in Mickleham and Woodsong will go some way to satisfying that demand."
"There has been strong interest from locals looking to upgrade to a newer home with the premium sites facing waterway and nature reserve proving very popular."
Mr Vinodolac said project had been designed with a particular focus on maximising green spaces and the communities' linkages to existing infrastructure.
"The green element and focus on active, healthy living will be felt the moment you arrive," he said. "The heart of the Woodsong community has been set aside for a 9ha sports and recreation precinct, complete with ovals, courts, playgrounds, and more.
Woodsong will be the first significant project in the Craigieburn West Precinct Structure Plan (PSP), with a portion of the project reserved for a future school.
The PSP will add around 8,000 houses to Craigieburn West and help guide the area's development as a series of predominantly residential neighbourhoods supported by a local town centre and adjoining residential rooms.
The PSP features a local activity centre, schools, community hubs, diverse housing typologies linked with a range of open spaces, including conservation reserves, active open space, sporting grounds and a network of local parks.
Oliver Hume Chief Executive Officer Project Marketing Julian Coppini said the PSP would give buyers the confidence they would be among the first buyers into an area where infrastructure and amenities already existed or were well planned.
"The Craigieburn West area will eventually be home to thousands of families, and Woodsong provides a great opportunity to secure the best homesites in the project and the whole precinct," he said.
"Buyers will have instant access to a range of established infrastructure just a short drive away while also being confident there is more to come over the next few years."
"The homesites are well priced for a variety of different buyers, and we would expect them to be snapped up as quickly as we can bring them to market."
Lots in the first stage are due to be registered in late 2024 with the first residents of Woodsong expected to move in by mid 2025.
For more information, visit www.woodsong.com.au or call (03) 9961 4362.
Tags:
Sales
New development