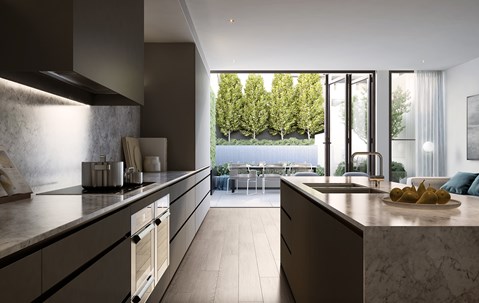 Parkville by Oliver Hume Takes National Award
Building on Parkville's legacy - Parkville by Oliver Hume nabs top honour at UDIA awards
A unique interpretation of Melbourne's famed Victorian period architecture has been recognised as one of the state's top residential projects, securing the Small Scale Development of the year award at the Urban Development Institute of Australia (UDIA) Awards for Excellence tonight.
Parkville by Oliver Hume is the culmination of a deep collaboration between Oliver Hume Property Funds and an all-start team including architect Koos de Keijzer of DKO Architecture, interior designer Sue Carr of Carr Design Group and landscape architect Jack Merlo.
Located three kilometres from the CBD, the project includes 20 individual-titled homes found between prestigious Royal Parade and The Avenue, Parkville.  Launched in 2016, Parkville by Oliver Hume was completed in August 2019.
Oliver Hume Property Funds Director David Rogers said the company was proud to be recognised for the Parkville project and paid tribute to all the staff and consultants who contributed to its success.
"We had a strong vision of what we wanted to create on this site and all of our consultants shared that vision," he said. "The end result is a stunning project that we think sets a new benchmark for inner-city development."
"Blending the style of a bygone era with the demands and expectations of modern living is never easy, but I think we have been able to get the balance just right to create something extraordinary."
Carr Design Group Director Sue Carr said the Victorian periods' homes around Parkville and other inner-city suburbs provided important lessons for the design of contemporary neighbourhoods.
"With their wonderful proportions, emphasis on vertical living, connection to landscape and proximity to the city, they are a compact and sustainable urban housing model for the future.
"With Parkville by Oliver Hume, we wanted to incorporate some of the traditional ideas of the classic Victorian period home, refine them and offer a design that provides a contemporary way of living.
"All of these homes are made up of a series of spaces designed with a specific function in mind. All have large proportions, grander than many other modern housing models," she said.
Located on a site bounded by Royal Parade, The Avenue and the Capital City Trail, each privately accessed home is built over five levels, including a private rooftop terrace.
The project utilises each of its three main aspects to create a unique design for each residence. The homes facing Royal Parade are made up of four interior levels with three bedrooms and a self-contained area on the lower level. The north and south aspects of Bridleway Walk comprise nine three-bedroom homes split up over three levels. The Avenue aspect includes seven exquisite three-bedroom homes focused on the multi-functional living area on the lower level.
Selected residences feature a swimming pool with an integrated daybed, lounge area and barbecue, each set-in garden designed to be both beautiful and functional.
The project embraced a design philosophy which placed an emphasis on delivering valuable spaces throughout each home. Inspired by how the future homeowners will live in the project, each space in the home was carefully considered so that the completed product was as functional as it was beautiful.
Given the opportunity, each home will allow you to drift away in thought on your daybed, pour yourself and friends that favourite drink at your perfectly positioned cocktail bar or simply put pen to paper in your quiet home office.
Generously proportioned, every home has an expansive living area on the ground floor, as well as a second living space inside the master retreat providing an entire floor dedicated exclusively to master level living.
No stone was left unturned in the kitchen area of each home with the marble imported from Italy, appliances from Miele and tapware from Vola. These fine touches make these areas the heart of each home at Parkville by Oliver Hume.
As the name suggests, Parkville epitomises the very nature that surrounds it. From the leafy streetscape of Royal Parade, and the vast expanses of the surrounding parks the natural flora and fauna are what makes this area so significant.
The goal of the project was to leave a positive legacy for the area, and judging by the result, it achieved just that.
At a glance
Parkville by Oliver Hume, 535 - 541 Royal Parade, Parkville

Architect: Koos de Keijzer, DKO Architecture

Developer: Oliver Hume Property Funds

Interior design: Sue Carr, Carr Design Group

Landscape Design: Jack Merlo

Number of apartments: 20 townhouses, 4 four-bedroom, 16 three three-bedroom.

Internal sizes: 230m2-416m2
External areas: 56m2-293 m2

Car parking: 16 residences have two-car garages, 4 have four-car garages.

Construction: Completed August 2019

Agent: Oliver Hume Real Estate Group
Tags:
Sales
New development
Staff