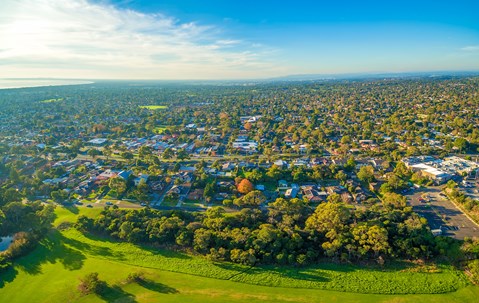 Sunbury and the Future of Melbourne
Trends in the 'post-COVID' era
Identifying and understanding long-term trends is an important although rare skill.
Getting a handle on underlying trends in times of rapid change is especially difficult.
When the world is moving fast it can often lead us to question what we know and our assumptions about the future.
COVID-19 is the latest example of how one event, largely unforeseen by most, can lead us to new questions and a different outlook.
COVID-19 has already generated considerable discussion about what the future might hold.
Perhaps one of the most interesting and important areas of discussion is how our cities, towns and regions will change in the 'post-COVID' world.
COVID-19 appears to have had both permanent and temporary impacts on various trends underway.  Many of these trends have been shaping our urban and regional geographies for decades or longer.
Some of these trends have accelerated.
An example is working from home and the rise of the digital economy.
It appears inevitable now in hindsight, perhaps, after almost two years of lockdowns and other restrictions, that our homes were always going to be places where more work would be undertaken.
Going forward, where people will spend an increasing amount of their working time will have an impact on local economies, residential development and other areas.
Other trends appear to have slowed or even, temporarily perhaps, reversed.
An example is globalisation.
Globalisation accelerated in recent decades.
The modern era of globalisation essentially began after the Second World War through increasing flows of information, trade, capital and people around the world.
Some analysts have argued that COVID-19 has merely disrupted globalisation.  Others have argued that globalisation in the future will be very different to what has been observed in the past.
In this new type of globalisation, it is argued, regional and bilateral trading arrangements, not multilateralism, will dominate.
As we have seen only too clearly with COVID-19, what happens in other parts of the world can have an impact on Australia, either immediately or over time.
Over the long-term, changes in global production and trading patterns will affect Australia, especially, as we are an open trading economy.
These changes will create both winners and losers across the spectrum of Australian society and the economy.
While the fate and fortunes of industries and businesses will be shaped in the coming years, so too will that of our cities, towns and regions.
Understanding these shifts - and how they might apply to cities, towns and regions – is a valuable but rare skill.
Sunbury at the Epicentre
At Oliver Hume, we are constantly scanning the horizon, on the lookout for the places where our clients can identify and capitalise upon new opportunities.
Central to this process is understanding how current and emerging trends will shape the residential property market and, in particular, which locations will see increased demand.
One of the locations we are closely watching is Sunbury and the surrounding region (around 40 km from Melbourne's CBD).
Although Sunbury is already experiencing significant population growth and residential development, the pace of change is likely to accelerate in the coming decade as the broader region responds to the many shifts underway.
These shifts include, but are not limited to, those related to the rebalancing of Melbourne and the areas of affordability, lifestyle and liveability, infrastructure and employment.
As a result, Sunbury and the surrounding region will emerge as an increasingly important option for prospective buyers.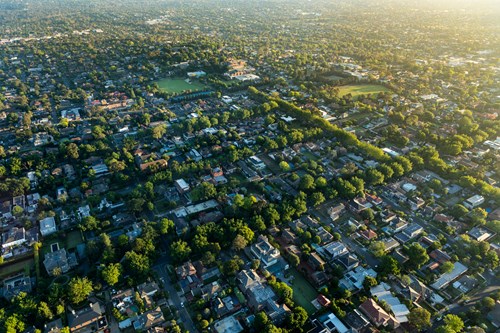 Rebalancing of Melbourne
Since Melbourne's founding, the city's growth and expansion has been mostly towards the southeast.
In recent years, however, we have seen a reversal with the city's growth flipping to the north and west.
The expansion of the northern and western regions, driven by large development growth corridors, now account for a significant share of the metropolitan economy and population.  The share is set to increase significantly going forward.
At the epicentre of Melbourne's 'great rebalancing' is Sunbury.
Sunbury is in the northern local government area of Hume and, specifically, in the northern growth corridor.  However, Sunbury also borders Melbourne's western region and the western growth corridor.
This is a strategic location.
Both the northern and western growth corridors and regions are expected to experience amongst the fastest population growth in Australia.
Over the coming decades this will mean Sunbury will be the epicentre of a region undergoing tremendous growth.
Affordability
Affordability remains a key challenge for many buyers trying to enter the market.
Melbourne's north and west offer some of the most affordable residential properties in the broader metropolitan area.
Sunbury offers tremendous value for a range of buyer groups including upgrader buyers and those looking for more land.
Sunbury also offers opportunities for first home buyers and those looking to enter the property market.
With the median Melbourne house price now well over $1 million and set to head higher over the medium to long term, many buyers will continue to look to Sunbury where they can still buy a new house and land package from just under $400,000.
Authenticity and Lifestyle
Besides its ideal location, Sunbury also offers lifestyle and liveability.
Sunbury is a heritage-rich city that retains its charm for such a large town that is relatively close to the Melbourne CBD.
Sunbury's heritage and history are especially unique.  The Ashes urn originated in the town and Sunbury is home to the state's oldest homestead.
The town offers several health, education, community and other facilities.
The Sunbury wine region, home to several historic and family-owned vineyards, is the closest wine region to Melbourne.  Sunbury also offers several other attractions including craft and farmers markets and historic homes and gardens.
Beyond Sunbury lies the Macedon Ranges which is internationally renowned for its natural scenery, native forests, charming towns and dynamic tourist, food and wine industries.
Infrastructure and Employment
Employment growth and new and improved infrastructure are amongst the most important drivers of residential property markets over the long-term.
Again, Sunbury's location is strategic.
Sunbury is only 20 km from Melbourne Airport- one of Australia's international gateways and a major employer.
Together with Melbourne Airport, the surrounding business and industrial parks support thousands of transport, logistics, distribution and other jobs.
While many Sunbury residents already work at the airport and the surrounding region, the continued growth and expansion of the airport is expected to support a growing workforce, many of whom could look to Sunbury as their new home.
Melbourne airport is set to become to a major contributor, once again, to Victoria's economy and local residential demand as travel resumes and global supply chains are restored.
As Sunbury and the rest of Melbourne have expanded and grown in recent decades, so too, infrastructure and connectivity have also improved.
Many Sunbury residents work in the local area and other parts of the state including, especially, Melbourne's northern region and central Melbourne.
Significant infrastructure investment, currently underway, is set to significantly improve Sunbury's connectivity.
The $2.1 billion upgrade of the Sunbury train line will increase its capacity by 113,000 passengers per week.
Importantly, the upgrade is a major element of creating an end-to-end Sunbury to Pakenham / Cranbourne rail line.
The rail line will be linked by the Metro Tunnel, a city-shaping project for Melbourne, that will untangle the City Loop and allow more trains to run more often across the metropolitan area.
Looking forward
As Melbourne enters 2022 and a new era of growth and optimism, Sunbury's numerous competitive advantages and strengths will help ensure that, this once satellite city, will take centre-stage as one of the most compelling residential locations for property buyers and those looking for a special place to call home.
Tags:
New development
Research