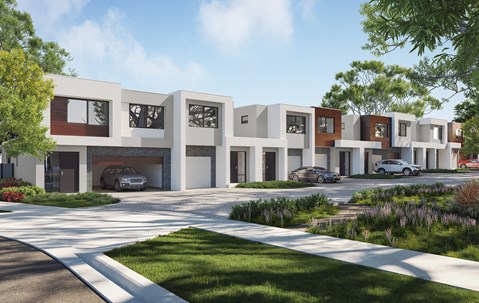 Townhouses and the Great Australia Dream: Opportunities and Challenges
The townhouse market has the potential to become one of the most exciting and dynamic residential sectors as Australia enters the next residential property cycle.
Robust demand for residential property, record prices, changing buyer sentiment and evolving demographics is placing the townhouse in an increasingly important position.
This is especially the case in our larger capital cities where affordability pressures are growing.
With Melbourne's median house price breaking through the $1 million mark in recent times – and forecast to continue - many buyers are looking for efficient and modern dwellings that meet their needs while also offering good value for their money.
While some of these buyers might opt for apartments many will be looking for a lower density product.  A share of this market segment will also be looking to purchase a landed product.
This is where the townhouse product comes in.
Townhouses are popular around the world in many cities and are an increasingly popular dwelling type in Australia.  More townhouse developments could be a viable solution that meets the growing demand of the market.
Creative, efficient and innovative architecture is making the townhouse market more appealing by reinventing townhouses and making them even more attractive for modern buyers.
Encouraging townhouse projects can also be one way of accommodating a growing population when international borders reopen.
Although this will continue to hold true in our larger capital cities it may also, increasingly, be the case in our smaller capital cities and regional centres which have experienced higher levels of buyer interest over the last year.

Render: Soho Living at Windermere, Mambourin
New Opportunities and Challenges Require New Solutions and Approaches
But there's a catch: While there is a need for more diverse housing, including townhouses, we must ensure that our city building strategies and approach to planning can facilitate the continued change of the residential property market as it meets the needs of buyers and residents.
One way to do this is by investing the time and effort to understand what those at the forefront of research are working on and thinking about.
For example, research sometimes points to the impact of urban regulation and the impact on housing supply.
Land-use zoning laws can have a major impact on whether diverse housing types, such as townhouses and medium-density housing, are permitted in residential areas and whether they are viable to develop.
If we are to have more diverse housing our approach should not be set and forget.
Instead, our approach needs to be regularly reviewed considering how economic, population, technology and other market drivers change and evolve.
Customer and Market Led Change
Of all the drivers that shape and influence the housing market one of the most important is the customer.
Prior to COVID-19 drivers of change in the townhouse market included demographic change and many buyers seeking an alternative housing product that was neither a traditional detached house nor an apartment.
Another key aspect of a townhouses demand was the product's 'whole of life' appeal due to its flexibility and attractiveness to a range of buyers.
Check out this virtual tour of a townhouse at Evoke in South Morang.
From downsizers to first home buyers and singles to families, a wide range of market segments could see their future in a townhouse.
In the current dynamic environment – where many aspects of the economy and our daily life have been upended – organisations need to be focussed on understanding how customer demand is changing and what customers are looking for.
We continue to see buyer sentiment and preferences change in the markets we operate in.
Metropolitan and regional greenfield locations have been amongst the strongest performers with higher sales volumes and rising prices highlighting the demand shift to these locations.
While traditional house and land products have continued to see strong sales volumes, customers are also, increasingly, looking at townhouse options in the greenfields.
As with infill markets, we are seeing townhouses emerge as a key housing product during the COVID-19 period and expect its popularity will only continue to grow.
It is not hard to understand why this is the case.
A townhouse with a courtyard or backyard where you can have coffee in the morning, or take a break from working from home, is appealing to many buyers who have endured weeks and months of lockdowns and other restrictions.
By virtue of their size and design, townhouses can often overlook parks and water features - either as part of standalone developments or in masterplanned communities.
Townhouses are often located near major employment hubs and retail, entertainment, social and other amenities.
Importantly, townhouses can begin to offer these and many other benefits at very competitive price points maximising affordability and demand from a range of buyers.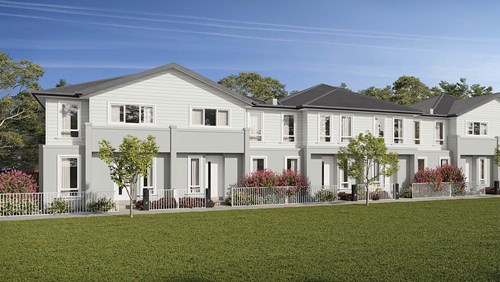 Render: Porter Davis - Amora Townhomes at Alamora, Tarneit
The Great Australian Townhouse Dream
More and more, a townhouse is becoming the 'Great Australian Dream' for many buyers.
This is especially the case as prices grow rapidly across major residential property markets, living costs increase (but wages growth remains subdued) and affordability and home ownership is challenged.
Developing an effective planning approach that encourages townhouse projects could be part of the solution toolkit if we are to address some of the major challenges we face while maximising opportunities.
COVID-19 has changed much about the property market and it's appropriate we reconsider how we can best respond.
In some instances, changes which were well underway, have accelerated.
In other instances, new trends have emerged.
Appropriate planning instruments and tools that encourage the right development in the right location can better ensure we can keep delivering affordable homes to Australians, both now and in the future.
Given the flexibility, size and other benefits of townhouses to meet current and emerging demand, it is time we think critically on how we can better integrate this housing form in the planning and development of our cities.
Tags:
New development
Research
Investment